Attention all Barbie enthusiasts!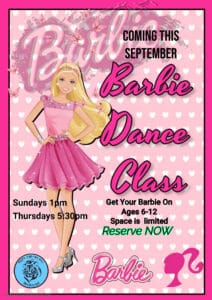 Embrace the Barbie spirit in a dazzling world of dance and celebration! Let's groove together as we honor the iconic Barbie in the most fabulous way possible!
Join us for an exciting dance extravaganza where you'll learn various dance routines dedicated to celebrating everything Barbie! Whether you're clad in your trendiest Barbie party attire or rocking those chic Barbie workout clothes, come as you are and let's revel in the Barbie magic!
The class promises an array of delightful activities – we'll dance, we'll capture unforgettable moments in pictures, and we'll create lasting memories in this grand Barbie fiesta!
Don't miss out on this fantastic fun-filled dance class! Let's bring out the Barbie in you! See you there!
Click on any Class Below for a Description, Price & Registration
Fall Semester Starts September 5th.